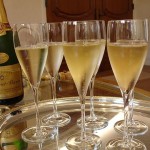 April is one of the best times to come to Champagne, before the season really gets going, and if you're a champagne enthusiast, you'll definitely want to be at one of four of the best and most dynamic champagne tastings taking place this year.
The first is the Terroirs et Talents de Champagne and  takes place in Epernay on  Sunday 13th and 14th April at the Restaurant Au  Théatre. In no particular order (!) Champagne producers taking part at this tasting will include:
From La Montagne de Reims:
Aspasie
Maxime Blin
Penet Chardonnet
From La Côte des Blancs:
de Sousa
André Jacquart
Vazart Coquart
From La Vallée de la Marne:
Janisson Baradon
Michel Loriot
Sélèque
And Jacques Copinet from Le Sézannais
and  Coessens from further south in La Côte des Bar
To book your place at this event, simply email: terroirs.et.talents@gmail.com
Your next date is on  Monday 14th for the Terres et Vins de Champagne at the
Hotel Castel Jeanson, Ay, and in no particular order,  the champagnes being presented at this tasting will include:
Horiot
Agrapart
Françoise Bedel
Bérche
Francis Boulard
Chartogne-Taillet
Couche
Doquet
René Geoffroy
Etienne Goutourbe
Jeauneaux-Robin
Benoit Lahaye
Laherte Fréres
Tarlant
Leclapart
Franck Pascal
Hubert Paulet
Pouillon & Fils
Go here to book your place at this event (the picture is from last year's event, sadly)
http://www.terresetvinsdechampagne.com/home/formulaire.php
Go to Formulaire d'Inscription
And third is Les Artisans du Champagne on 15th April at Chateau Les Crayeres, Reims.  You'll be able to meet and chat with these producers there:
Maillard
Paillard
Savart
Huré
Hébrard
Gerbais
Doyard
JL Vergon
Alfred Gratien
Margaine
Vilmart
Lancleot Pienne
Dehours
Gonet Médeville
You'll need to go here to get yourself into this event:
http://www.lesartisansduchampagne.com/
Go to Inscription en Lignes,

And finally, on the 16th April, David Pehu and his group will be presenting their champagnes, venue to be confirmed.
Well, if that's not a great selection of small producers, I don't know what is! Looking forward to seeing you in Champagne in April.
Stay Bubbly!