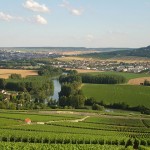 Reasons why you must come to Champagne in 2016.
If you're looking for a reason to visit Champagne in 2016, then look no further.
We'd love to have you come and stay with us at our beautiful 19th century former grape farmer's house in the heart of the region.
We're English, speak fluent French and completely independent.
Not only will you get to experience the 'real' Champagne, but you'll have insider knowledge on the region, the people, the places to go and see and, you can be sure of spacious rooms, very comfortable beds, soft duvets, fluffy towels, good food and great company!
And don't just take our word for it, CLICK HERE to see our testimonials.
To book online click here or ring now on
0033 3 26 48 20 52 or email
yvonne@lesmolyneux.com
Champagne Tastings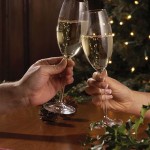 There's nothing quite like discovering something that no-one else knows about, and what better place to start than with some of the wonderful champagnes made by small local producers.   There are 3 great champagne tasting events coming up in April this year, and you can get full details by clicking here.   For a full list of our favourites, pick up a copy of Your Personal Guide to Champagne by clicking here
You can either call them in advance, knock on their doors, or let us make an appointment for you.  Either way, you will receive a very warm welcome.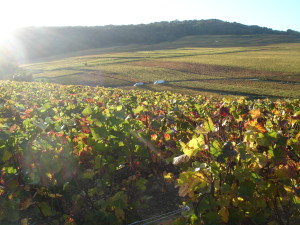 Take a trip out into the vineyards with one of our Champagne experts.  We've personally selected our tour guides because of their expert knowledge and attention to detail.  They love to share their knowledge with champagne lovers.  Let them guide you into the heart of champagne, and introduce you to some of our favourite small producers and their champagnes,  while you sit back, relax and soak up the atmosphere that is Champagne.  You'll learn so much about this fascinating subject.
Email yvonne@lesmolyneux.com to book your tour today.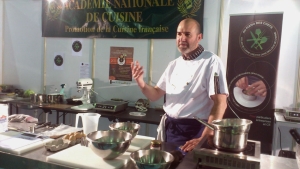 Cooking Experience with chef Eric Geoffroy
If you love cooking and you also love eating, then you'll absolutely love a French Cooking Experience with our friend and chef Eric Geoffroy.  Join him on a gastromic journey over 3 hours, as he shares his passion and love of food.  CLICK HERE to find out more
Balloon rides from April to September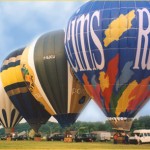 Taking a ride in a hot-air balloon high above the vineyards and the villages must be one of the best ways to see the region.  Let your hosts at Air Tonic delight and surprise you with an experience not to be missed.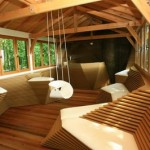 Acrobranche and Champagne Perching Bar
Swing through the trees like Tarzan at Arboxygene in Verzy !  Three circuits to choose from depending on how brave you are, then afterwards why not enjoy a glass of bubbly at the wonderful new Perching Bar.  Situated 18 feet off the ground in the trees, with a fabulous view of the surrounding area.
Restaurants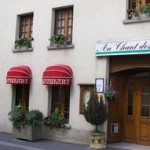 Eating out in France is always a pleasure, and there are lots of great restaurants within 15 minutes drive from Les Molyneux.  Let us make a reservation for you, or if you want to do it yourself, pick up a copy of Your Personal Guide to Champagne and you'll find all the names and contacts details of the ones we have tried ourselves and recommend.
Spring Fair at Mailly en Champagne
The "Fete de la Gastronomie et Champagne" at neighbouring village Mailly Champagne takes place over the weekend of Pentecost (14th, 15th and 16th May 2016) and is certainly worth a visit.  Many of the champagne makers of the village open their doors to visitors to serve you champagne and local delicacies – a feast for your tastebuds indeed awaits you here.
Fete de la Musique in June and July
Starting on Midsummer's Day the 21st June, the towns of Reims and Epernay are alive with live music, and free concerts await you at champagne houses, churches, restaurants and parks.  Choose from the many artists who come from all over the world to perform at this music festival.  CLICK HERE to see more about this wonderful festival.
Harvest Time in September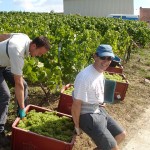 When the grapes are ready and the harvest begins, there is a flurry of activity everywhere.  You too can be part of it by contacting us in advance.  The 2015 harvest was considered to be exceptional because of the 2 month heatwave during June/July/beginning of August, but we won't know what that means for at least another year! You can see lots of pictures and videos about it by clicking here.  If you'd like to be part of it in 2016, then email us at yvonne@lesmolyneux.com now so you won't be disappointed.
Reims Wine Festival – November 2016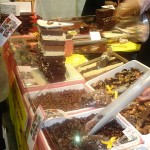 La Foire de Vins des Vignerons Indépendants à Reims.  This is quite simply the most fabulous wine fair I've ever been to.  Strange that so few English people have ever heard of it. Hundreds of wine growers from all over France exhibiting their wares in one location, not to mention the chocolates, patés, cheeses, charcuterie and
much much more.  Come and stock up for Christmas.
"Habits de Lumiere" Epernay – December 2016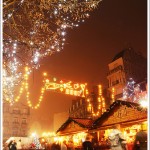 The Habits de Lumière in Epernay is an experience not to be missed.
The Avenue de Champagne, surely one of the world's most elegant avenues, is lit up with fairy lights and candles as are the famous champagne houses on both sides of the road.
Stroll up the avenue,  listen to the live music, watch the fireworks, try a roast chestnut  and soak in the atmosphere in the Capital of Champagne, all accompanied, of course by a glass or two of wonderful champagne.
Browse around the fascinating Marché de Noël for some Christmas shopping in Reims where you're bound to find something unusual to take back home and when you've had enough shopping for one day, then just drop
into any one of the dozens of bars all around and relax with a flute of champagne (or two?).
And if all this isn't enough, we can show you some fabulous woodland walks and mountain biking trails, where to play some golf, see some rare birds (the feathered ones), take a  riverboat cruise on the River Marne, take a peek inside a snail farm, (the ones you eat!), and so much more!
There's so much more to discover.
To book online click here or ring us now on 0033 3 26 48 20 52 or email yvonne@lesmolyneux.com
Looking forward to welcoming you to your home from home in the heart of Champagne very soon