Do you love cooking?  Do you love champagne?  How about both together?  Yes? Then you'll absolutely want to join in on a delicious French experience with local chef Eric Geoffroy, and here's why:
You'll be planning and cooking an authentic 3-course French meal
You'll be learning under the guidance and supervision of a real French chef, Eric (don't worry, he speaks fluent English too!)
You'll be learning how to match food with champagne, so that you're next dinner party will be an absolute show-stopper
You'll be in the company of a small group of like-minded people, so you can chat about food and champagne till the cows come home!
You get to eat what you create at the intimate dinner afterwards.
Sound interesting?  Read on….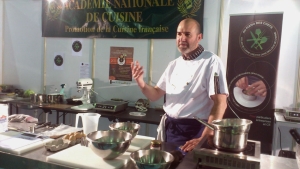 Eric is an experienced chef from Champagne, and has worked both in France and the UK.  He's passionate about sharing his knowledge of matching food with champagne with people just like you.
His cooking classes are personally run by him and his team of bi-lingual chefs, so there'll be no problem  if your French isn't up to much.  Eric says his aim is to blend relaxation and escapism with discovery and inspiration and fun.   Sounds delicious, doesn't it?
Groups consist of no more than 8 people, so you'll get Eric's individual attention for the whole experience.   Expect to take home the inspiration, confidence and ability to create irresistible dishes for your friends and family from your own kitchen.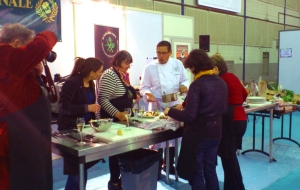 What's included?
A 3 hour cooking experience with Eric Geoffroy
All ingredients, champagnes and equipment needed to create a delicious 3 course meal, which you will then all enjoy together
Recipes to take home with you to wow your friends at your next dinner party
"This is a 5* experience and not to be missed when visiting the Champagne region" O'Connell family, Ireland
What to do now?
If this unique and intimate Cooking Experience speaks to you, then simply email us now at yvonne@lesmolyneux.com for more details