To find us on Google Maps, click here
We're at
14 rue Chanzy
51380 Verzy
+33 (0)3 26 48 20 52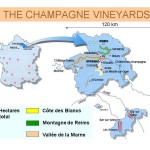 The main city, Reims, with its elegant shops, superb restaurants and old streets is 15 minutes drive away and thanks to the new high speed train ( TGV ) you can get from Reims to the centre of Paris in 45 minutes.
On the way to Paris you pass Eurodisney– only 1 hour from Champagne by car – and with Paris, Charles de Gaulle airport also only about 1 hour's drive away, it's easy to reach Champagne by air.
If you're travelling by car it's a very easy 3 hour drive (or less) from the Eurotunnel at Calais to your front door.