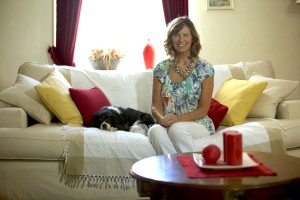 Hello and welcome to your home from home in the heart of Champagne. We are Jiles and Yvonne Halling and together with our daughters, Chloe and Lucy, we've been living here in Champagne since 1995.
What first brought us to this little-known area of France?
Before arriving here, we had spent 1 year living in the USA and 4 years in Japan where our girls were born.  Jiles had been working for a large international drinks company, Allied Domecq as it was then called, and after a 1 year break from our travels, back in the UK, he decided he wanted to leave.
One day as he was travelling on the train into London, he spotted an advert in a newspaper which had been left on the seat nearby.  His interest was peaked when he read that a well-known business school was launching a one year MBA course in Luxury Brand Management, for the very first time the following September.
It would mean leaving the UK again and setting up home  in France, and there was no telling what would happen after the one year course had finished.  What did we think?  Well, we decided to go for it, trusting in whatever happened, it would be right for us.
So we sold the house in the UK and with our girls, then aged 2 and 4, we took posession of a lovely old house in the middle of a charming village near Paris.  The girls were quickly registered at the local Ecole Maternelle, and although they didn't speak a word of French, they slotted in very well.
Within less than 3 months, they were fluent in French, and have grown up to be bi-lingual.
After Jiles graduated from the business school (where he was the top student in his class!) he was offered a job at Moet et Chandon in Epernay, and so off we went again, across the country to the Champagne region.  We rented a house in Epernay first, because we didn't know how things would turn out, but after 4 years, all was well and we decided to buy a house and open a B&B.
We bought and restored our beautiful but neglected 19th century former grape farmer's house in 2000 and in fact it's a lifelong project that keeps us busy almost all the time!
We opened up our home in 2001 to visitors wanting to stay in a comfortable, spacious environment with all the creature comforts of home, and we've welcomed guests from all over the world.  We'd love to welcome you too.
CLICK HERE to see the rooms