To book online click here or call us on 0033 3 26 48 20 52 or email us at yvonne@yvonnehalling.com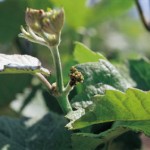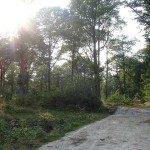 The village of Verzy is nestled on the slopes of the Montagne de Reims, between the 'Faux de Verzy' the forest of twisted beech trees, in a conservation area of natural parkland and the vineyards producing the famous pinot noir grapes for the bubbly.
Springtime in champagne is magical. After the cold clear skies of winter, the new shoots on the vines are just emerging, busting into full leaf during the 1st week of May and changing the colour of the landsape from brown to bright green. Against the blue of the spring skies this is truly beautiful. The weather is warm, the rains gentle and the promise of the forthcoming fruit is inspiring. Birds sing in the nearby trees of the forest, life begins again in its slow, rhythmic and timely manner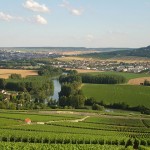 Summer is hot, hot, hot, with temperatures soaring into the mid 30s, the fruit hangs heavy on the vines, ripening daily. The trimmers are out in the vineyards, keeping the leaves in check, so that the sun can ripen the grapes. Bar-b-ques abound, summer fun, warm evenings, strolling through the nearby cathedral city of Reims, or the smaller capital of Champagne, Epernay on the River Marne, dinner on the terrace, sipping champagne – what more can one want?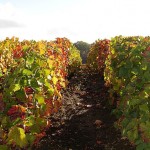 The promise of the harvest is hanging in the air and the champagne makers test the acidity of the grapes daily. Migrant workers set up their camps ready to start the work. Handpicked directly from the vines, the grapes are the 'gold' of the region. The picking window has arrived and the landscape is covered with people. The aroma of the freshly pressed wine hangs heavy in the air, and life all at once is frantic as the harvest is gathered and lovingly transformed into liquid gold. And then, all is quiet. The leaves turn orange, yellow, rust, brown under the clear blue skies of autumn. The vines gently fall asleep under the falling temperatures..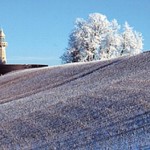 Winter and the landscape is barren, almost desolate. The temperatures drop as low as -20 in some areas, the snow falls, the fires are lit, gathering loved ones from far and near for family celebrations. There are parties to go to, more champagne to be sampled, as the vines sleep silently under winter's blanket, ready for the awakening again of spring.
Whenever you choose to visit, you will find something special and unique to experience at Les Molyneux in Champagne.