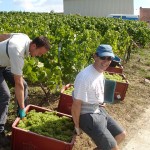 Many people who visit the champagne region really don't know how and where to find the smaller champagne houses where they can meet the champagne makers themselves and sit down and taste with them, and often with the family too.
This is not surprising as the smaller champagne houses are not brilliant at self-promotion preferring instead to tend to the vines and make the bubbly, rather than open the doors to tourists who may or may not buy anything.
So I've just compiled a brief list of our favourites and where I know you will receive a warm welcome and a glass or two of the famous bubbly, while you chat and learn with the makers themselves.
You may need to make an appointment ahead of time because they do have other things to do and are not always available.
La Maison Penet, Verzy
Alexandre and his wife Martine took over the family business quite recently and have invested a small fortune in their new reception area, tasting room and cellars.  Alexandre is a savvy businessman and has developed a niche "low dosage" champagne for discerning bubbly-lovers.  Not everyone will love it, but it's certainly different and well worth your time to explore.
Hure Freres, Ludes
Francois Hure is one of three brothers and having travelled to other wine-growing regions of the world, has brought international expertise to his champagne making process.  Based in the "Montagne de Reims" area of the region, his champagnes are Pinot Noir bassed which makes them very fruity and full-bodied (which I personally love) One to put on the list for sure.
Benoit Marguet, Ambonnay
If you're looking for some "out-there-woo-woo" thinking, then a visit to this smaller champagne house won't disappoint you.  Benoit is very much into the bio-dynamic production process, paying close attention to the cycles of the moon, ploughing the furrows between the vines with his horse-drawn plough and using herbal concoctions, rather than chemicals to keep the bugs at bay.  Well worth a visit to just experience his philosophy
If you'd like to find out more about how meet these small champagne houses and the people involved, then just email me yvonne@lesmolyneux.com and I'll be happy to help.
Meanwhile, why not CLICK HERE and hop over to our Facebook page and say hello 🙂
See you soon in Champagne
Yvonne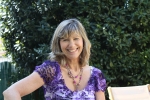 Save
Save
Save
Save