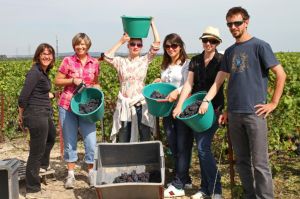 The dates for the champagne harvest for 2013 have been announced, and it starts in Verzy on the 4th October for Chardonnay grapes and the 6th October for Pinot Noir grapes.
And you can come and get involved if you want to experience the atmosphere and the excitement of the highlight of the year here in Champagne.
Your day starts with a trip out to the vineyards and armed with a pair of secateurs, you'll be instructed on what to pick, how to pick and where to put the grapes when you've picked!
And then, off to the press house to enjoy the process of crushing the grapes and watching the juice being extracted, followed by a tasting of the juice straight from the press.
Lunch follows where you'll enjoy 3 champagnes and a typical harvesters lunch with the team.  Would you like to come?
"These people simply effervesce, they really are bubbly in every way, the welcome, the room, the breakfast and of course Verzy, this sleepy village surrounded by vines and Champagne Houses."

We're looking forward to seeing you in Champagne for the 2013 harvest 😉
Yvonne