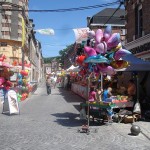 If you're planning to come to Champagne this summer, then you won't want to miss the Bi-annual Fete Henri IV in Aÿ (pronounced aye)
Aÿ used to be the capital of Champagne, over 400 years ago, and at that time was most famous for its still wines.  It's still home to some of the big well-known champagne houses,  such as Bollinger, and some of the best grapes of the region are to be found in its vineyards.
The best time to visit Aÿ is every other year (even years)  when they hold the Fete Henri IV.  In 2012 it's on the 6th/7th/8th July.   Many of the champagne houses large and small, open their courtyards, gardens and doors to visitors, where you can sip a glass or two and relax.  It's a lot of fun.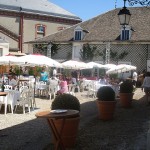 If you come to the Fete, you'll be able to walk in and taste some of the little known gems of Ay plus enjoy the atmosphere of a typical champenois event, where the music plays, the food is plentiful and the champagne flows.