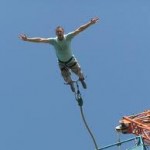 With the torrential April showers hopefully behind us now, we can turn our attention to what's happening in May in Champagne.
May is the month of the brocantes – those street markets which sell cast offs and collectors items, featuring everything from used tyres (?) to champagne caps.  Verzy's brocante was last weekend, and needless to say I didn't buy anything.
There's a brocante every weekend now in several villages in the region, and if you like milling around bric-a-brac and looking for a bargain, then don't miss, come on down.
The highlight of events in Verzy (not to mention the Summer Dance Gala on the 16th June, where yours truly will be dancing!) is the Fete Patronale which is happening on the last weekend of May.
I'm really excited about this because last year it was an absolute hoot on the Sunday afternoon.  We were drawn into the music and entertainment of the drag artists singing and dancing in their luminous outfits and unbelievable wigs.  Sipping champagne in the sunshine with friends and enjoying the ambience of the real France was incredible, and this year promises to be even more fun with the opportunity to participate in bunjee jumping.  Needless to say again, I won't be jumping, but you can!
Join us if you can, we're looking forward to meeting you in Champagne!