Wondering what to do for a holiday with the children this year ? Finding a holiday that suits everybody can often be a challenge for families with different interests, so here's some suggestions:
Boating on the river is a great way to involve the whole family. Armed with life jackets there are at least two choices in Champagne.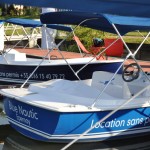 First there's Blue Nautic in Epernay, where you can jump into an electric boat without a licence and take yourselves off down the River Marne. You might spot some herons, ducks, swans even, and each family member can take turns at steering the boat. You'll be able to see the beautiful vineyards from the river, while enjoying your picnic aboard perhaps with a coupe de champagne. Or imagine sitting in the open air restaurant watching the wild life on the river while enjoying a delicious salad or light lunch on the river bank, before or after your trip on the river.
Christine and her team speak excellent English and are waiting to welcome you.
If you're a bit more adventurous, why not try canoeing or kayaking at Tours Sur Marne. You'll need to don a helmet for this trip as well as the life jackets, but it's a lot of fun racing each other paddling downstream on the River Marne.
The bus picks you up at Tours Sur Marne and takes you down to Aulnay so you can make your way back down the river to pick up your car again. You can choose how long you want to be out on the river.  The team at Aqua Gliss are waiting to welcome you here too.
Full details of both these fun activities plus loads of other great things to do and see in Champagne are available in our App "Champagne Day" here:  http://champagneday.net/launch