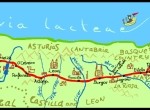 Running a B&B is a great way to meet new people, and the thing is, we never know who is going to show up next, and that's exciting.
Verzy is situated on not just one, but two of the great Pilgrim Trails which start in various locations in northern Europe and either lead to Santiago de Compostela in northern Spain, or the Via Francigena to Rome in Italy.
People take this pilgrimage for a variety of reasons and not always religious.  Some are walking for a charity or in the memory of someone they've lost, or some are doing just because they can. But they all come with a story, and we love to hear their stories.
Some embark on this adventure alone and some with a partner or friend.  Some do the whole thing in one go which takes around 3 months, and some do it a couple of weeks a year, spread out over several years.
Some plan their overnight stays and some don't.  Some simply knock on the door hoping to find room at the inn, and some have their ipads or other mobile devices, keeping in touch with the real world while on their travels, and have all their lodgings pre-booked in advance. Some are blogging about their adventure and staying connected during the whole journey and some completely cut themselves off to focus on the journey itself and the inevitable silence of being alone.
Some are travelling on a budget, and some are doing it "in style".  Whoever they are, we welcome them and offer them great accommodation, a good meal and a fond farewell the next morning.