Reims Wine Festival 2014

November 14th – 17th

Imagine this:
"Tour" all the French wine regions in a single day and discover wonderful wines at terrific prices to take home with you for Christmas, at the most spectacular Wine Fair you'll ever see, and it's right here in Reims.
Sound interesting?  Read on…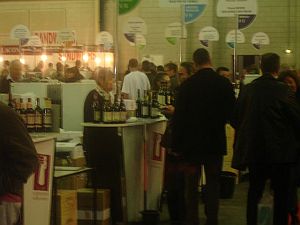 Whether you're looking for some superb Christmas presents to take home or just want to stock up on some exceptional wines for your own enjoyment, at this Wine Fair, you're sure to find just what you're looking for.
Prepare to be amazed!  You'll find literally hundreds of wine makers from all over France who come to show off their wares.  Whether you like Bordeaux, Burgundy, Alsace, Loire, Cognac… you name it, you'll find dozens of each of them at this wonderful show.
It's an amazing festival of colour, taste and smells.  Not just the wines but gourmet foods galore.  And when you need a break from sipping wine, you can browse the array of delicious fare on the stalls all around:  cheeses like you've never seen (or smelled) them before, charcuterie, the most gorgeous chocolates, olive oil and lots more.
Lunch on fresh oysters with your choice of wine, or perhaps foie gras and any one of the gourmandises that will tempt your taste buds.  Meet and chat with the wine makers, whose passion and dedication to their craft is inspiring.  You'll meet some great characters here.
I can guarantee you'll love the buzz of this spectacular French Fair – just don't be surprised if it becomes an annual event in your calendar!
Book online here, or email us at yvonne@yvonnehalling.com or call us now on
+33 (0)3 26 48 20 52